A. Why Hermannplatz?
The second question one could raise after what could be « landscaping » studies about might be why did we choose Hermannplatz?
Our initial idea was to study the impact of immigration on a particular spot which had been in the past and is still facing the arrival of people coming from different countries. The impact had to be revealed in the use of language. We chose the capital city of Germany, Berlin. Several factors influenced our choice. First, all members of the study group were familiar with the city, or at least, relatively familiar. The second argument is on the macro scale; since 1950, Germany called for immigrant labor on a regular basis - becoming by so a welcoming land for migrants. Furthermore, the country is facing since 2010 an immigration increase due to the refugee crisis. After choosing the country, we decided to focus on Berlin, because it was far easier to study and we thought we could have great results there.
 Document 1. Immigration in Germany since 1950, Le Monde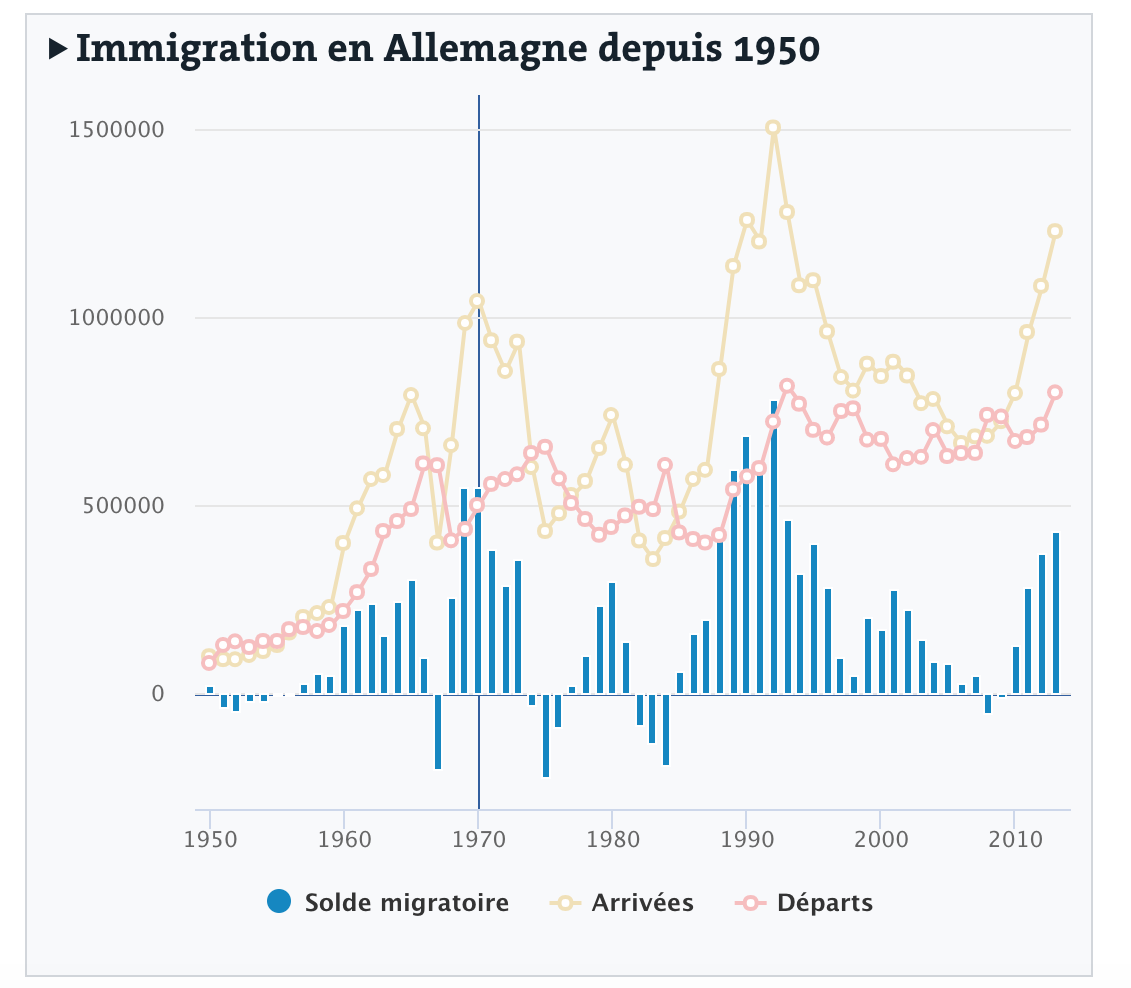 Source: http://www.lemonde.fr/les-decodeurs/article/2015/01/06/quel-est-le-poids-de-l-immigration-en-allemagne_4550225_4355770.html
In blue : net migration
In yellow : Arrivals
In red : Departures
As we were living in Berlin, the idea you get when you talk about immigration and Berlin is directly Neukölln and particularly this circle you can draw by hand around Hermannplatz. Hermannplatz is located in Neukölln, a borough in Berlin. The northwestern part of Neukölln is known for having a high percentage of immigrants in Berlin, only surpassed by Mitte. The station opened on April 1926, interchange between the lines U7 and U8 
Neukölln brings a picture of diversity, Arabic words heard here and there, baklava and delicious dishes that are resting behind restaurants' store fronts. We were curious about what we could find, we went there and we chose to transform all of this researches into an ethnographical study case.
The case of Neukölln is particular. We cannot really say it is similar to the banlieue in France. Neukölln is well connected to Berlin's center with the subway line that is directly linked to the middle of the city. 
Nonetheless, I found similarities with London. What does Neukölln have in common with London? asks Naomi Larsson in her article published in der Tagesspiegel. She refers to Finsbury Park tube station (underground) and shows that it is « known by the UK's Algerian population as 'Little Algiers'. Other north African communities have since migrated here, as have Afro-Caribbean diaspora and Greek and Turkish Cypriots. Turkish and Kurdish people later moved in, particularly around neighbouring Green Lanes » but also Irish communities after the second world war.

Globalization and gentrification...
⟶ Immigration and Neukölln
Neukölln in music - by David Bowie
⟶ Immigration in Germany
During the 18th century, the king Friedrich invited Bohemian Protestants to help settle the land, they were allowed to keep their language (Czech). After the reunification of Germany which took place in 1871, the country faced a dearth of workers and war and famine but also the industrial revolution. In order to cope with the situation, the country invited labourers from other countries and mostly Poland. With the world wars, Germany pursued this strategy, and in the 50s/60s, the guests were mostly coming from Turkey or Italy. Germany did not expect them to stay, most of the time, the visas were temporary. 
Hermannplatz is surrounded by different streets such as Sonnenallee, a street that was back in 1989 bisected by the Berlin wall. It is now the core of the city's Middle Eastern community. With its falafel restaurants and shishas cafes, it is depicted as the « Arab street ». With the refugee crisis, many Syrians settle there, what is depicted as the "familial culture" helps here.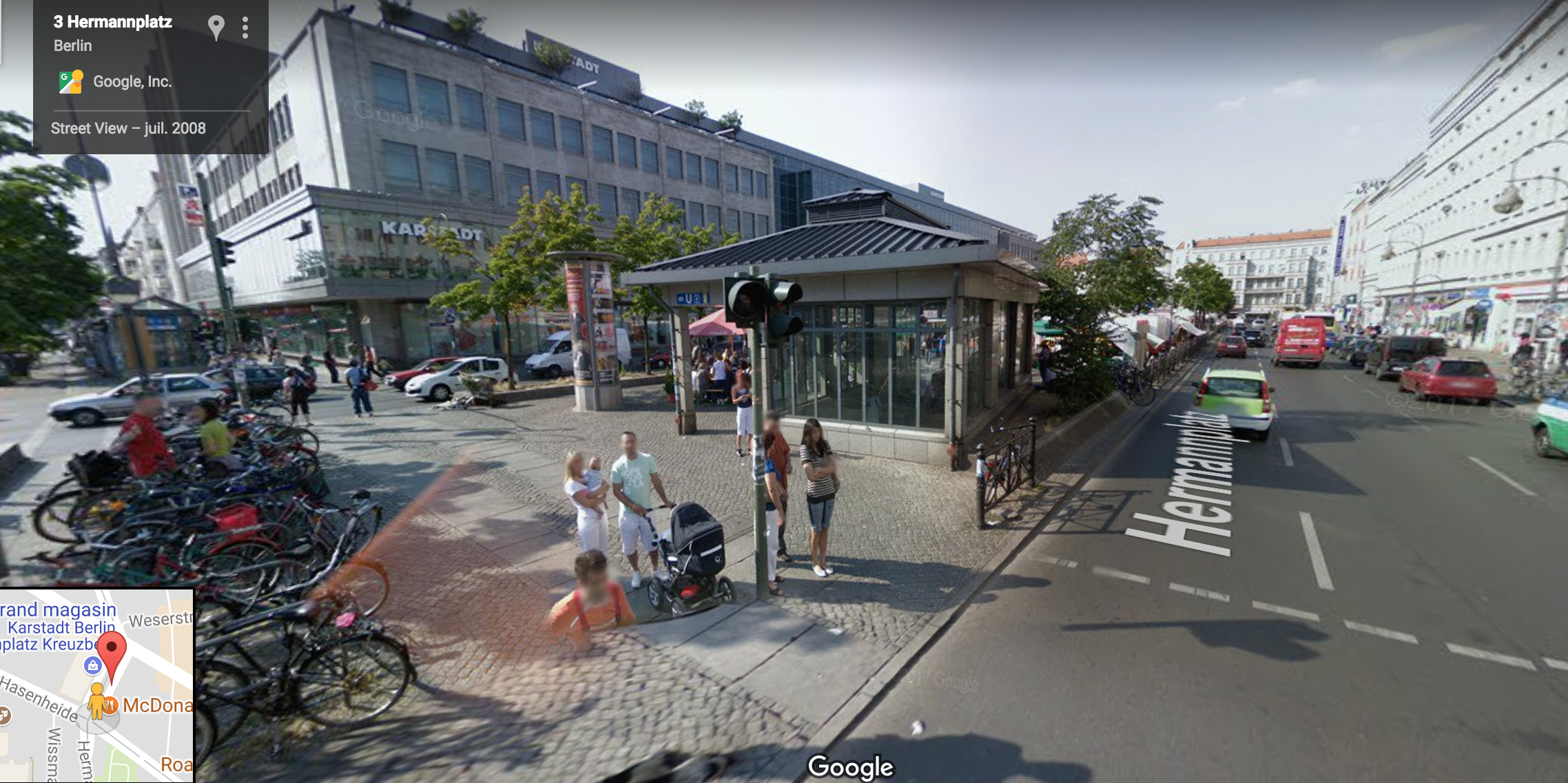 ⟶ What is particular about this area...
Neukölln is known as the poorer working class district in Berlin. Victim of its low rents, Neukölln started attracting bourgeois, artists, students and the art-scene, people seeing the potential of multiculturalism. We have to link this reality to some facts :
15% of the neighbourhood is facing unemployment 

A third of the neighbourhood's residents are on welfare. 
⟶ Gentrification is happening there...
I asked Amin, a student at Viadrina Universität born in Germany and from Egyptian background to tell me why his parents are living in Sonnenallee and not somewhere else, 
"We've been here since 2005. I think my parents chose this flat because we needed a bigger place, since my family was growing. There are some schools around and a playground and the place was very familiar… until this thing with the gentrification started. You know, firstly our landlord changed and we got a big corporation instead of this private person. A lot of graffitis started sprouting up on the walls. Plus, a lot of people who have been there a long time had to leave because of those high rents… now, there is always vandalism in this building and rich guys. The whole street is filled up with cafes, bars and ateliers, and of course, yuppies."
B. Deep diving into ethnographic studies...
Ethnography is the study, the recording of people and cultures in a natural setting. Etymologically speaking, it derivates from the greek ethnos meaning folk, people, nation and graph which can be translated into "I write". It is a branch of anthropology that gained slightly its autonomy during the late 18th century. 
⟶ What does the ethnologist have in mind? 
He has an idea in mind, a place, a civilisation and focuses on one point.

He wants to explore a social phenomena and not necessarily proving, or testing hypothesis. 
⟶  how is the ethnologist processing? general ideas about ethnography…  
He gathers data, primarily unconstructed. 

The data can composed of : interviews, symbols… artefacts, observations. He pays attention to people's interactions. 

He analyzes the data he has collected so far. 

He interprets the data. 
 ⟶ What is the method? 
Field-based : the ethnologist has to be closed to the studied subject(s).

Personalised : the method will depend on the subject, even if protocols or thoughts are written before going on field, ethnologists adapt to reality, to what it is happening. 

Multifactorial : the study case is driven through the use of two or more data collection techniques ⟶ qualitative or quantitative. 
The idea was to study super-diversity (Vertovec, 2007) in Hermannplatz and see to what extent globalization affects languages. The texts, signs and symbols in this particular landscape helped finding traces or worldwide migration flows (Jan Blommaert, 2011)